Quality Termite Solutions For Southeast Georgia
In Georgia's humid climate, termites are a given. If your home is unprotected, you either already have a termite infestation or will experience one in the future. Since termites eat away at wooden structures, when they get into your house, they damage its structural integrity. Homeowners insurance rarely covers termite damage, so protecting your home from these wood-destroying insects is essential. Pestmaster® Services of Savannah can help.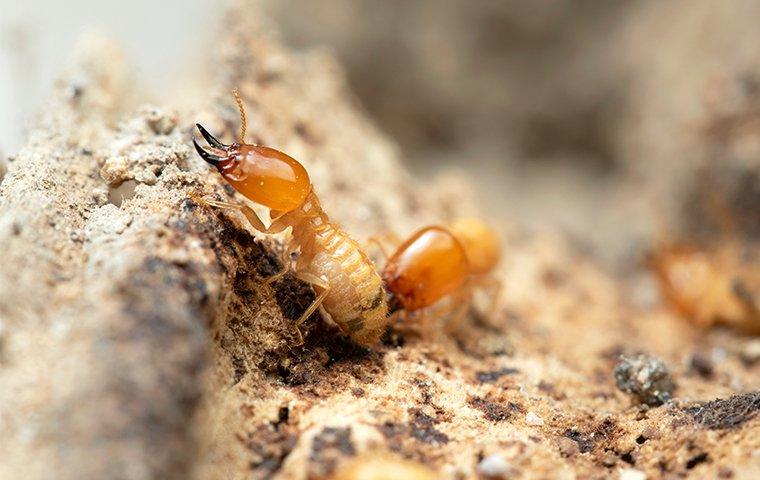 Our Termite Control Process
Free Inspection
Before performing a treatment, it's helpful to know if you already have an active infestation. We'll inspect the inside and outside of your home for any signs of termite activity. We'll also take this opportunity to draw a graph of your home so that we have the right amount of product for your treatment.
Termite Treatment
Liquid Treatments
Our treatment consists of applying a liquid product around the entire exterior perimeter of your home that creates a continuous barrier to protect your house from termites. We trench and treat the areas where the soil comes into direct contact with your home. We may also have areas that we need to drill. If that's the case, we'll patch them back up after treatment.
Termite Bait Systems
Baiting systems are also available. We will place bait stations at regular intervals around the exterior of your home.
Pre-Construction Treatments
If you are in the process of building your house, it's the perfect time to protect it from termites. We offer pre-construction treatments that treat the soil before the slab is poured.
Follow-Up Service
After treatment, we'll return a week later for a follow-up visit. Our termite treatments come with a one-year renewable and transferable warranty.
Wood-Destroying Insect Reports
If you are purchasing a home, your lender might require that you file a Wood-Destroying Insect Report before approving your loan. We offer this service, which consists of an inspection and the writing of the report. This service also provides you with peace of mind by allowing you to know whether or not your new house has a termite problem before you finalize the sale.
Guaranteed Protection From Destructive Pests
Termites are bad news for homeowners, but by taking preventative action, they are nothing you have to fear. With termite control from Pestmaster® Services of Savannah, you'll get the termite protection you need with a yearly renewable warranty to keep your home protected for years to come. Contact us to schedule your free inspection.